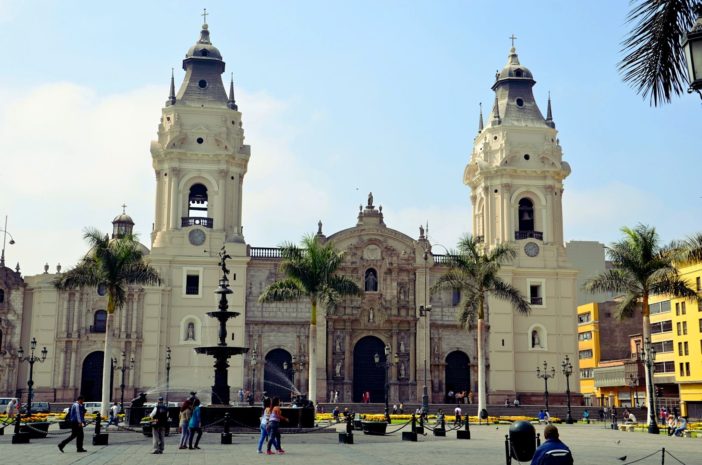 What can you see in Lima, Peru and penthouses to stay
Lima, Peru attractions with places to book: South of central Lima in Pueblo Libre is the Rafael Larco Herrera Museum, more commonly called the Larco Museum. The 18th-century viceroy mansion that houses it was built on the site of a pre-Columbian pyramid from the 7th century. The Larco Museum contains a huge collection of more than 40,000 pieces of Peruvian ceramics, a large portion of which is from the Moche and Chimu cultures. These are not all on display at once. There is also an excellent collection of gold work, along with some textiles, stone carvings, and metalwork.
You can find this bridge, and its surrounding park, in the Barranco district. The bridge was built in 1876 and is small and wooden, but looks rather like something found on a postcard, which is why you may run into people posing for wedding photos as you walk around. The hustle and bustle of Lima's Chinatown is not to be missed. Start on the main walkway, which is lined with Chinese-themed benches and lampposts and is not far from the Metropolitano, Peru's bus rapid-transit system. From there, find a chifa restaurant (Chinese–Peruvian fusion food) and enjoy a meal.
Many of Lima's once-grand colonial mansions have fallen into a sad state of disrepair. Others, however, have been lovingly preserved, complete with the furnishings and personal effects of their original owners. Most are open to the public by appointment only or through tour agencies, but history buffs (and interior designers) will find the extra pre-planning worthwhile. Those not to miss include Casa di Aliaga, a block north of the Plaza de Armas, which was the former residence of Jeronimo de Aliaga, one of Pizarro's conquistadors and now the oldest house in the Americas. One block northwest lies Casa de Oquendo, a 19th-century mansion complete with watchtower, while just south of the plaza, you'll find Palacio Torre Tagle, an 18th-century mansion with finely carved wooden balconies that's now home to the Peruvian Ministry of Foreign Affairs.
Iglesia Inmaculada Corazon de Maria (corner of Sucre and 28 de Julio) is the neighborhood's main landmark. The church's unique 5-story teal and pink dome is visible from most of the neighborhood, especially at night when the church's facade is brightly lit. It is topped with a statue of the Virgin Mary by Ariquepeno artist Freddy Luque Sonco. Magdalena's Malecon is a work in progress, and although it's not as beautiful as Miraflores', it can be a pleasant place for a walk in the sunset—just avoid young necking couples and the kids on bikes, as it seems to be a popular place to go when you're learning to lose the training wheels (take that how you will). Read extra pictures of this fabulous ocean view penthouse on @AmazingPeruPenthouse on Facebook. Need a place to stay in Lima, Peru? Read a few extra info at Magdalena del Mar penthouse to book.
The Museo Larco is a must-see for travelers interested in pre-Columbian art. The private museum, founded by Rafael Larco Herrera, is located in an 18th century building that was built over a seventh century pyramid. The museum's collections, representing 5,000 years of Peruvian history, are arranged chronologically. The museum's total collection numbers thousands of pieces. It is especially famous for its collection of pre-Columbian erotic pottery, which includes humans performing sex acts not only with each other but with gods and the dead. Equally impressive is the Gold and Silver Gallery, which includes objects such as funeral masks and jewelry worn by priests and rulers.